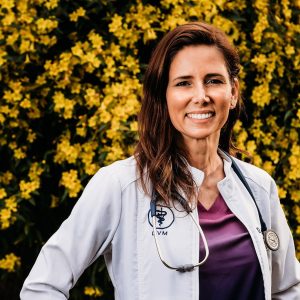 Dr. April Rice grew up in Panama City Beach, Florida and had many pets as a child. She began working as a Zookeeper at Zoo World in Panama City Beach while earning her Associates Degree in biology from Gulf Coast State College.
She obtained her Bachelor's Degree from The University of Florida in Animal Sciences in 2001. She was accepted into the Veterinary Program at the University of Florida that year and graduated with her Doctorate of Veterinary Medicine in 2005. Her emphasis was Small Animals, Wildlife and Exotics and she completed a summer internship program at the Kansas City Zoo as well as rotations through White Oak Conservatory and Disney's Animal Kingdom. She was Vice President of her class all four years.
While in veterinary school at UF she met her husband Brandon who was pursuing his post graduate work in Medical Physics. They moved to Richmond, VA in 2005 after graduation and they were married in 2007 at the Minneapolis Zoo.
April and Brandon settled in Richmond, VA where April has developed many relationships with both dog and cat clients as well as being one of the few Veterinarians in the area trained to treat Wildlife and Exotic Animals. She loves her patients and their parents and treasures the relationships she has built here in this area since 2005.
April and Brandon have two amazing sons, Ethan and Cayman who enjoy playing baseball and soccer. They have a Golden Retriever, a German Shepherd, a hairless cat (sphynx), a Corn Snake and an aquarium of exotic fish rounding out the household. The family enjoys spending time boating and wakeboarding/surfing on the James River.